Anyone can call themselves a gardener these days. It doesn't take much training to put a few perennials in the ground, water them in and get paid. But does getting paid make you a professional? In one sense of the word, yes. You're getting paid to do a service, but in another sense, not necessarily.
The industry has grown so quickly over the past decade that there are no barriers to entering the gardening arena as a professional. And, as a consumer that means you have to be super discerning.
A typical professional gardener is someone who has a formal education or training in horticulture or landscaping. They likely have specialized knowledge and experience in things like plant selection, cultivation, pruning, pest control, and landscape design. And, they've cultivated that knowledge through ongoing education and certifications. Many of those certifications require CEUs to maintain. All of which require commitments of both time and money.
On the other hand, an amateur gardener is typically someone who gardens as a hobby. Amateurs don't necessarily have the same level of training and experience as professional gardeners. They're usually self-taught and while they may have a thriving personal garden at home or volunteer their time at a community garden, their focus tends to be on fulfilling their own passion rather than working with paying clients.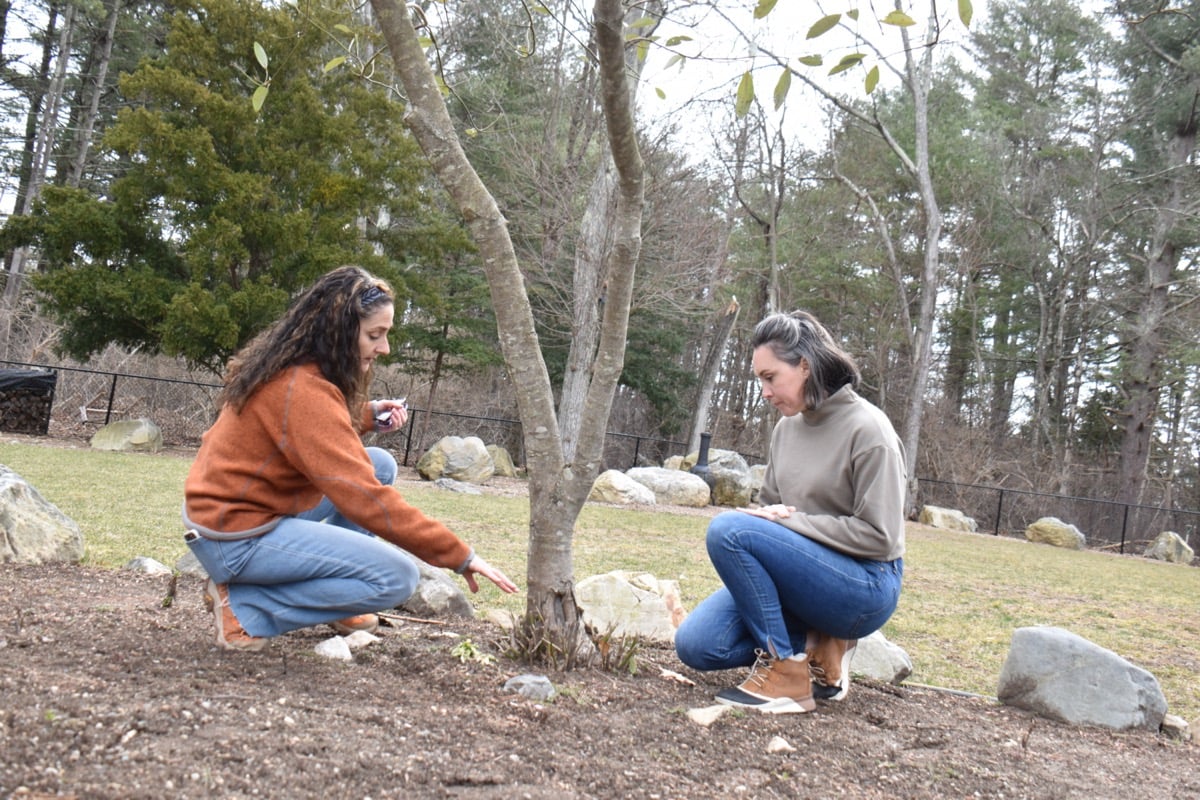 Monique shares tips on what to do with sucker growth on a Magnolia.
The key difference between a professional and an amateur is the level of education. And, while amateur gardeners can get paid for their gardening services, it's important to make sure they have the knowledge and resources to deliver quality work.
For the consummate gardening professional though, it's not just about a paycheck. And although we've outlined the main differences between professionals and amateurs above, there's one major similarity. And, that's the love of nature.
A closer look at the word amateur reveals it's etymology is rooted in love. And, if you find yourself working with a professional who isn't an amateur at heart, it might be time to get a referral.
Not too long ago, two worlds collided. The life of a professional gardener and the life of a backyard warrior. An amateur determined to learn and share her mistakes. That's where the premise for this blog series came into play.
Meet Monique Allen and Nina O'Brien. In the 2023 TGC Gardening Blog they will be sharing both perspectives in articles that will hopefully inspire you to get your hands dirty as well as reach out and partner with a professional when you need help.
Monique's gardening career spans nearly 4 decades, but she's still an amateur at heart. For her, the love for landscaping started in her late teens. She was a freelancer back then and landscaping was pretty simple. She mulched beds, she was told what to plant and she weeded, but she knew there had to be more.
There weren't nearly as many resources to support ornamental and regenerative landscaping as there are today so she had to learn from the ground up (no pun intended). She studied how to care for plants by buying them, planting them, pruning them, transplanting them and yes even killing some along the way. But she didn't let that stop her.
Instead, she sought out strong mentors in the field and ultimately started working with a talented landscape architect and a garden designer. Both professionals encouraged her to pursue an education in the industry.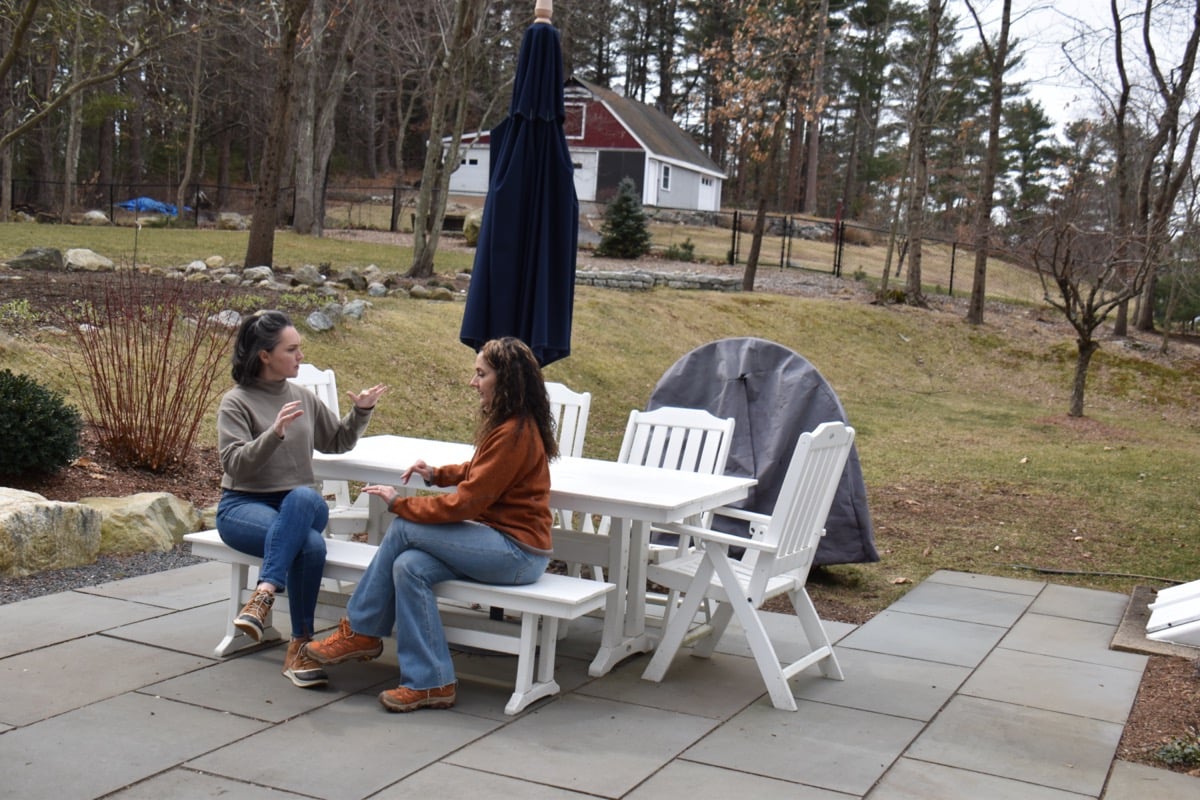 Nina shares some plans for her garden in 2023.
She earned her undergraduate degree in entrepreneurship at Northeastern University and completed graduate work in gardening design. The pieces started coming together quickly. She made a name for herself in industry associations, horticultural societies and even served on conservation commissions to expand the knowledge she gained as a student. Her business evolved from a freelance operation to a corporation that encompassed organic, sustainable, regenerative and ecologically minded gardening.
Nina, on the other hand, is an amateur who moved into a house previously owned by a talented gardener. She was lucky enough to inherit native perennials, mature shrubs, ornamental trees and two raised garden beds. One of those beds was filled with strawberries (15 years later, the descendants of those strawberries live on today!).
She felt tremendous pressure to care for and maintain the land just as the previous owner did. And that feeling of responsibility led her on a quest to find out all she could about the species already in her yard and the ones she dreamed about planting in the future. But those plans were derailed after Nina and her husband decided to remove massive pine trees that towered high above their home. Her backyard looked terribly different. She couldn't even look out the window. And, if aesthetics weren't enough, the tree removal had worsened their basement flooding.
One rainy day as she watched the water cascade into her basement, she realized she needed help. And that's when she called Monique. The project was major, but the solution was a success. All the while Nina remained an active participant, digging trenches, moving plants to keep them safe and transplanting them back into the garden when the job was done. She loved the work so much that during a career break she became a member of the TGC Fine Gardening team, broadening her gardening skill set and confidence.
Over the next year, our blog series will explore valuable perspectives from the standpoint of a professional and an amateur gardener. It's our hope by sharing this information that you will be inspired to develop smart landcare practices in your yard, generate ideas and know when to call in the pros for help. Monique will dig into each post from a professional perspective and Nina will highlight the homeowner DIY perspective.
Gardeners of all persuasions are encouraged to follow along to see how this story unfolds. As a new series, the floor is open for comments and questions. The goal is to help everyone become a better steward of the land and a better consumer.
At the end of the day, this is our planet and it doesn't matter if you landscape for a living or just putter around in your own yard. What you do in your yard has an effect on the yards next to you and the community as a whole.