It is not unusual for property owners to begin work on a landscape project only to run afoul of one or more Massachusetts environmental protection laws designed to protect wetlands, the watershed, or the environment in general. While, more often than not, these violations are unintentional and the result of not being familiar with the law, that does not change the fact that the property owner is in violation and may fall victim to some form of consequence that can become very expensive to resolve.
So how do you successfully complete a landscape project on your property that may be in conflict with Commonwealth of Massachusetts DEP regulations?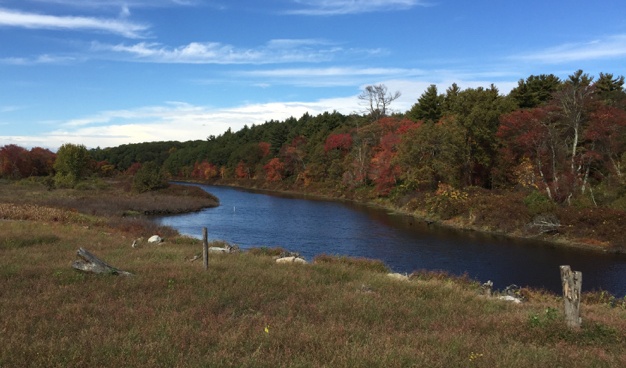 Three acre flood plain restoration located at the Charles River in Medfield, MA on the site of the former Medfield State Hospital.
It starts with gaining a clear understanding of your jurisdictional restrictions, which means the area of your property that is impacted by environmental laws and are based on state and local regulations. This can get complicated quickly depending on your municipality, property location, and landscape project plans. For example, local bylaws can impose more restrictions on land use than the specific Massachusetts DEP regulations specify. If the potential exists for a conflict, the best advice is to partner with a landscape design professional with a thorough knowledge of the regulations affecting land usage and one with experience in working with state and local regulatory authorities.
Tweetable Tip: To understand any DEP restrictions that might affect you, it's important to understand your property http://ctt.ec/I22Fb+
Whether you choose to team up with a professional or not, here are some of the major regulations and policies that affect wetland-bordering land use in Massachusetts and where appropriate we have included hyperlinks to the actual regulations:
Removal, fill, dredging, or altering of land bordering waters (Wetlands Protection Act)
This regulation essentially states that if your property borders on wetlands, you cannot substantially alter it without filing written notice to the appropriate conservation commission or similar authority of your intention, including detailed plans, and its anticipated environmental effect. You must receive written approval and comply with any restrictions.
Protection of coastal wetlands
Similar to the regulation above, but written specifically for coastal wetlands, this regulation is designed to protect public and private property as well as wildlife and marine fisheries. The commissioner of environmental protection may amend, modify, or repeal any order effecting the protection of coastal wetlands after a public hearing and notification of assessed owners of any wetlands in question.
Bordering Vegetated Wetland Delineation Criteria & Methodology
This policy defines which plant species are wetland indicator plants as specified in the wetland regulations. This policy also identifies a standard methodology for determining the boundary of Bordering Vegetated Wetlands (BVWs) in accordance with the law. As a supplement to this policy, the Department has developed a handbook and field data form to assist in the methodology of delineating wetlands.
Wetlands Program Policy Regarding Plan Changes
Minimum submittal requirements for filing a Notice of Intent (NOI) are available and include submission of "plans, supporting calculations, and other documentation sufficient to completely describe the proposed work and mitigating measures". The DEP may accept project revisions at any time while an NOI is under appeal. This discretion is limited only by one section of the law, which precludes the Department from considering new information when the Conservation Commission has denied the project for lack of such information and the Department concurs that the information is necessary.
There are, of course, a number of policies, regulations, and guidelines effecting property development based on what type of land the property borders, so it's critical to know the jurisdictional area of the property in question. For example, is it located on a marshland or a river? Is there a vernal stream present, or maybe a vernal pool?
Tweetable Tip: Get clear on which areas of your land are in environmental jurisdiction and avoid conservation issues! http://ctt.ec/76Afh+
To understand any DEP restrictions that might affect you, it's important to understand your property. One easy tip for gauging your property type is to walk it thoroughly in the spring, notice where it's wet, and make note of where plant types change – this is a good initial indicator of where the land transitions from dry ground to wetland. The next step is to test for hydric soils to get better confirmation.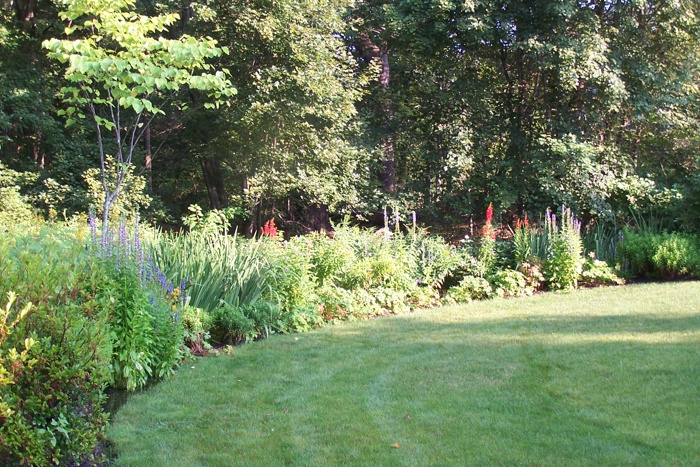 Back yard renovation that abuts a wetland. Restoration included removing mushy lawn areas that were unusable and replacing it with a wetland planting that is full of flowers that love wet feet!
The regulations described above may seem like gobbledygook to most people, but to landscape professionals with detailed experience helping clients maneuver through the regulatory morass they are like their second language. The value of that assistance from an experienced landscape partner is priceless when dealing with these types of challenges. In the end, your goal is probably to simply implement your landscape project and enjoy your land without any headaches. To learn more about this topic, please consider downloading the eBook titled "Navigate State and Local Environmental Regulations Like a Pro".