Container Gardens - Winter Arrangements
Just because winter comes, doesn't mean you have to empty your planters out. If they are constructed of a sturdy winter hardy material then why not leave them out and decorate. Use green boughs of pine, cedar, juniper, boxwood and cypress to create a textural dance of foliage. Add berries, cones, and beautiful colored twigs to add even more to the look.
---
Container Gardens - Mixing the Highs & the Lows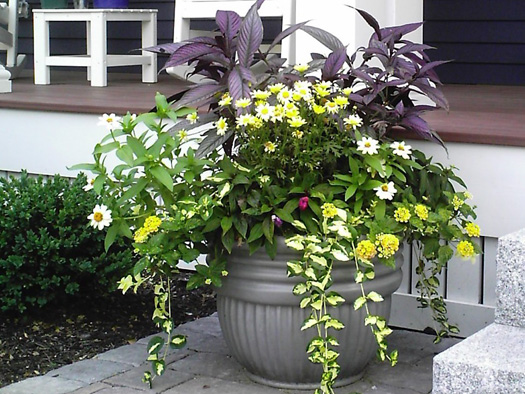 Summer container gardens should be big, bold, and beautiful. These planters in Needham, Mass are planted with high plants that reach (Persian Shield & Marguerites), mid plants that spread (Lantana), and low plants that will drip over the sides (ivy, euonymous, vinca). This along with varied foliage color and textures makes for a spectacular arrangement. The flowers...sure they are important too...so when the foliage sings the flowers are the high notes!
---
Container Gardens - Cool spring, Hot colors!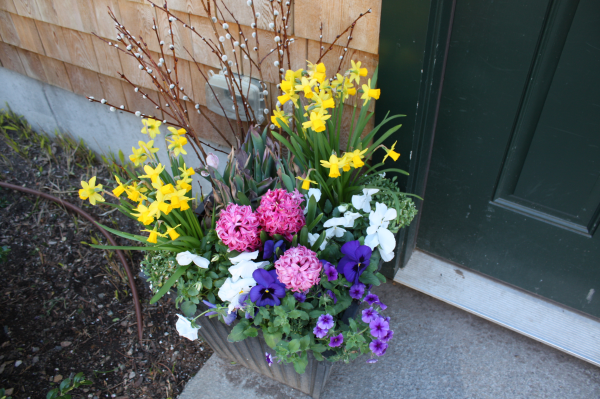 This cool spring has been the perfect climate for spring planters. This year to compliment the standard pansy planting, we used potted bulbs. Tete a Tete daffodils and bright pink hyacinths made the more subtle cools season annuals really POP with color.
---
Container Gardens - Low and Subtle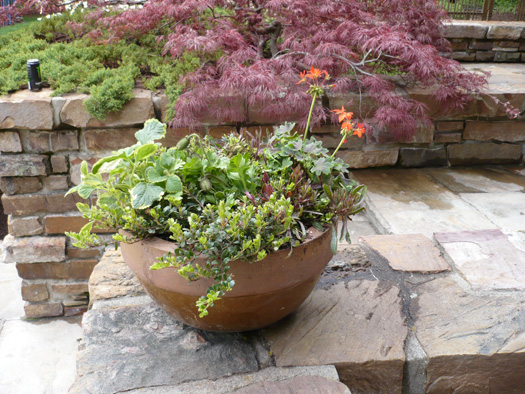 Placing a low shallow container in your garden on a patio wall pillar makes a perfect focal point when sitting at the table, when walking down the steps, and when just gazing into the pond. The plant choices of bearberry, coralbells, and poppies anchor this planter and offer varied texture in foliage.
---
Container Gardens - The More the Merrier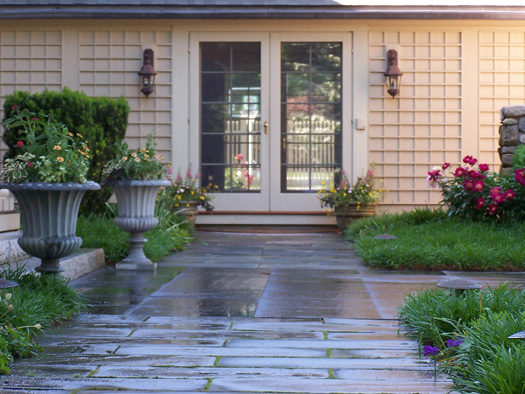 Planter placement is important. In front of doorways and entry passages are perfect because garden and home visitors slow down in these areas. They can "stop to smell the roses" in a matter of speaking. These tall urns at the main entry are complimented by a small set of planters at the side door. Each season brings an opportunity to fill them up with new exciting plants that will surely bring you joy.
---
Container Gardens - Herbs & Pussy Willow Branches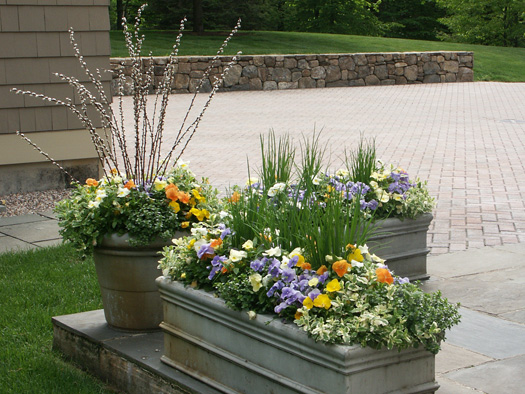 To add even more interest to those early container plantings use pussy willow branches to give some height and unique interest. For even more texture and foliage add herbs like chive, sage, and parsley to your arrangements.
---
Container Gardens - Pansies and Violas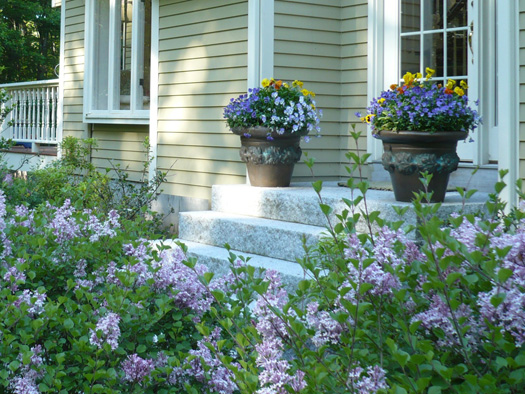 The joyful faces of
pansies
and
violas
brim over in these front entry planters in Millis, Mass. They go in small in the month of April and as soon as the weather warms up a little, they begin to reach up and out of the planter making a very colorful spring display of flowers and color. In the foreground the
Dwarf Korean Lilacs
(
Syringa meyeri 'Palibin'
) are in full bloom making a perfect frame of flowers for this front entry garden.