After much of New England lost its forests in the early 19th century to agricultural clearing, shipbuilding, and fuel gathering, the region has seen remarkable reforestation and now boasts a substantial forest-to-developed-landscape ratio in favor of forests. Today, many people don't give too much thought to trees as a general resource that can benefit both property owners and the public.
As a result, many property owners are surprised to learn that there are a number of state and local regulations and by-laws regarding trees and what can be done with them. In fact, as early as 1899, the Commonwealth of Massachusetts was passing tree legislation, including a law that required towns and cities to have tree wardens, something we still see in our current Shade Tree Law, Chapter 87 of the Mass. General Laws.
Types of Ordinances
Many communities have tree ordinances and they can vary from town-to-town. Here's a sample listing of some common types of by-laws in effect in the state:
Street Tree Ordinances – These primarily cover the planting and removal of trees within public rights-of-way. They often contain provisions governing maintenance or removal of private trees, which pose a hazard to the traveling public.
Tree Protection Ordinances – These are primarily directed at providing protection for native trees or trees with historical significance. They usually require that a permit be obtained before protected trees can be removed, encroached upon, or in some cases, pruned.
View Ordinances – These are designed to help resolve conflicts between property owners that result when trees block views or sunlight. This type of ordinance is often part of a zoning ordinance.
Landscape Ordinance – These establish required landscaping provisions, such as the placement and number of trees planted, types of suitable plants or trees and more. This type of ordinance may require trees be planted in parking lots or other sites. This type of ordinance is often found in zoning ordinances.
Many property owners are simply unaware of these or any of the other tree by-laws that may be in effect in their community. When they remove trees during a landscaping project, they're unpleasantly surprised when they run afoul of MassDEP, their local conservation commission, or their town tree by-laws and end up spending time and money pleading their case.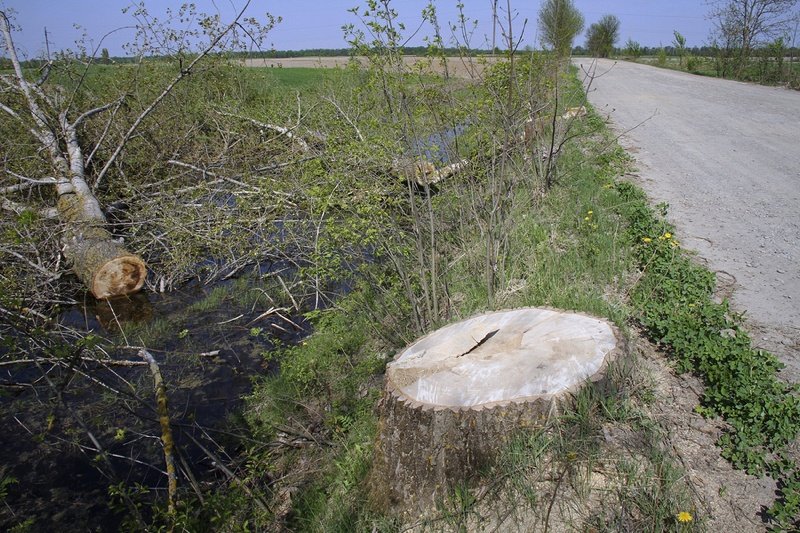 Minimizing the tree-removal problem
If you're a property owner in the process of developing a landscaping project, there are some things you can do prior to removing trees so that you can avoid or at least minimize any issues with MassDEP, your local conservation commission, the tree warden, or residential neighbors.
First, make sure you know your property lines. The last problem you want to have is making the mistake of cutting down someone else's trees or, worse, public trees.
The best way to avoid any issues regarding tree removal is to simply to not remove trees. Look closely at your landscaping project plans and ask yourself, "Do I really need to cut down that tree or remove those trees?" The reality is, sometimes the answer is yes, but very often it is no, so worth the time to think it through before you fire up that chainsaw.
If you're in a conservation jurisdiction, such as land bordering a watershed resource or public water body, things just got a little tougher. Often the kneejerk response from conservation commissions to a tree removal request is "No." That doesn't mean, however, that that's the end of it. You may be able to plead your case with one or more of the following mitigating circumstances:
The tree is an invasive species
It's a hazard to your house (this will require written proof from an arborist describing the hazard and potential impact)
You'll replace it with another tree (or trees) in a different location
You'll provide an improved, more diverse habitat by replacing the tree or trees in question with a layered solution of mixed, locally-appropriate plants including shade trees, understory trees, and varied layers of shrubs
Some issues are a lot harder to get around. One might think that a standing dead tree is a prime candidate for removal, but often conservation commissions will not allow it because it provides habitat and support for a number of animal and insect species. Environmentally sensitive trees are also hard to get approval to remove. Some communities require such trees to be replaced by the same type of tree on your property. The challenge is a new tree is far smaller than a mature one, so to make up for the loss in size, they will often require several trees to make up for just one removed.
The tree-cutting challenge, of course, will vary from town-to-town depending on the local by-laws. What's a major problem for one property owner is not even on the radar of another in the town next-door. The best advice is to know the by-laws affecting trees in your community and plan around them. Find out if your town has a Tree Warden and go introduce yourself. Even better; hire a landscape professional with arboreal expertise and experience to help you work through the first important question - to cut or not to cut.
Tweetable Tip: Many communities have tree ordinances and they can vary from town-to-town http://ctt.ec/OtF74+