Landscapes, when you think about it, are living entities – complex "organisms" that go through stages of life just like every other living thing. From their "birth" every spring to maturity over the summer, to their inevitable aging over the fall and entry into their quiet winter slumber.
This annual lifecycle does not mean you have to start over every year. Far from it. Instead, when you implement well-thought-out landscape management strategies, you can extend the life and value of your landscape significantly, reaping benefits and squeezing the joy out of it far beyond what the less-prepared might expect.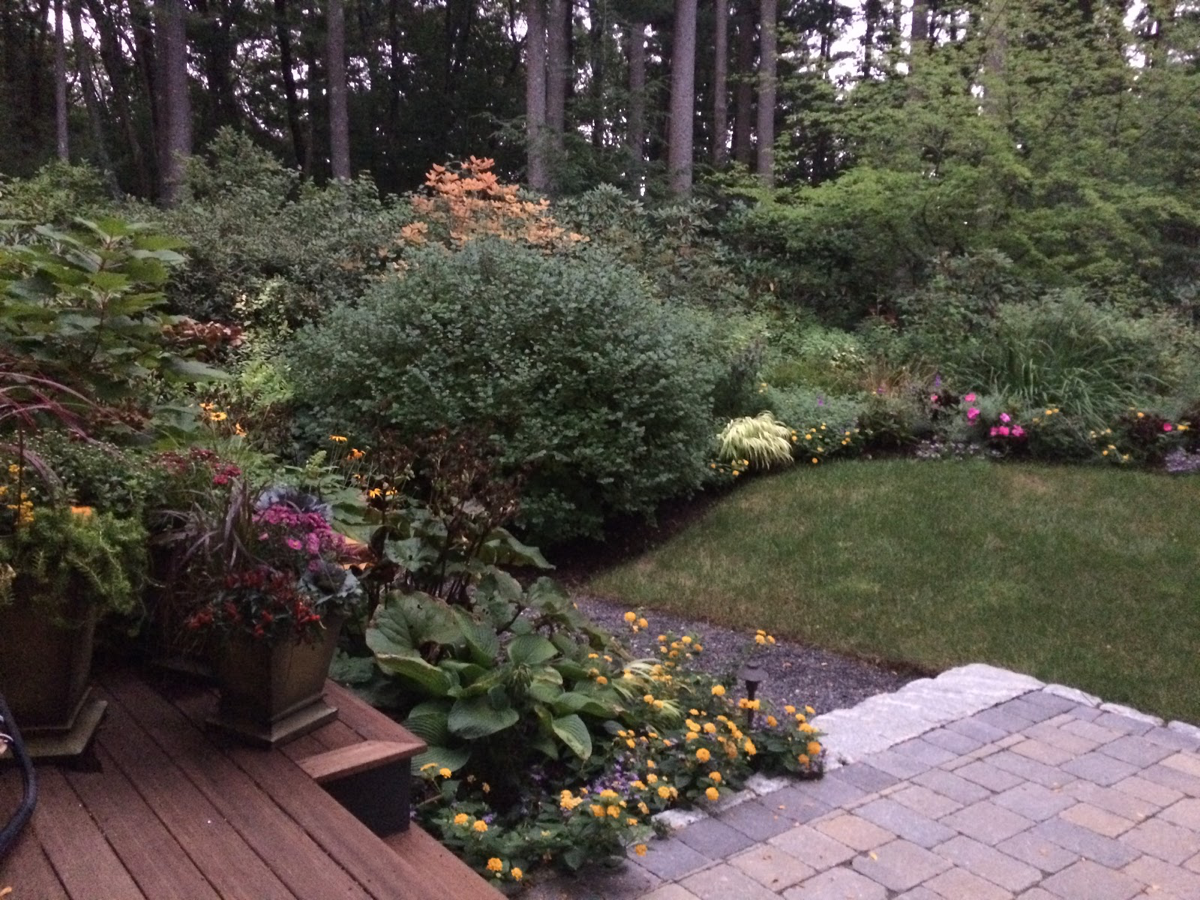 Late September with fall-planted containers, mature summer bedding annuals, and the first signs of fall foliage popping through in the background.
In short, when you plan ahead, you maximize results and get the most out of your investment in both time and money. Often, it's simply a question of looking at the present state of your landscape and seeing what you can do with what you already have. What value already exists that you can use, reuse, and distribute by simply editing, reorganizing, and sharing with friends?
Check out this video segment on NECN's Money-Saving Mondays about fall landscape projects and money saving tips.
There are a number of ways you can accomplish leveraging what you have, starting with 5 fall tasks to give your landscaping the biggest bang for your buck:
Divide your perennials to get new plants for new areas without spending an extra dime. Dig up plants that have grown too big -- such as Daylilies, Irises, Black-Eyed Susans, and Shasta Daisies -- chop them in half, replant one half and move the other half somewhere else to start a new garden.
Transplant small to mid-sized shrubs that may have become crowded in their current beds. Rhododendrons, Azaleas, Boxwood, and Spirea, for example, are all shrubs that move easily when you dig them as temperatures start to cool and the rains return. You'll have half a dozen "new" plants that had been hidden from sight that can be used to create an entirely new landscaped area. Just be certain that the plants are well hydrated before you start digging. Watering for a few days in advance helps!
Weed thoroughly in the fall – removing roots and all – so you'll have a better chance of controlling weed-spread in the next season. Late summer is NOT the time to stop weeding. They'll just go to seed and spread more misery for next year.
Do a spring clean-up in the fall, including raking leaves, cutting down perennials, and edging your beds so you'll have an easier time getting ready for spring. This fall work makes refreshing the mulch in your gardens so much earlier and faster come springtime and makes for more successful weed control.
Seed, because fall is the BEST season for seeding and reseeding lawns. The soil is all warmed-up, roots are actively growing, and the rains generally return – three key elements for promoting new lawn areas and boosting the performance of your existing lawn.
Fall is also a great time to introduce new plants into your landscape. Often there are scenarios where some landscape areas are doing well while others could benefit from some refreshing. Summer's heat and the threat of drought conditions are gone, so it's time to get planting while the season is optimal. In fact, here are three reasons why the fall is perfect for installing new plants.
In recent blog posts, I've shared the benefits of Fine Gardening and the strategy behind it to help you establish equilibrium and harmony in your landscape. Fine Gardening isn't about spending a ton of money on your landscape. It's about planning ahead and doing tasks in a repeatable and predictable way to keep pace with nature, so she does not get the upper hand. When you keep pace with the seasons you can ensure that all of your money is being put to the most effective use at the most appropriate times. If you're ready to lessen your burden when it comes to maintaining your landscape and all the elements in it, here are the 5 best money-saving landscape tips to make your life easier and your landscape more manageable.

TWEETABLE TIP
When you implement well-thought-out landscape management strategies, you extend the life and value of your landscape significantly, reaping benefits and squeezing the joy out of it far beyond what the less-prepared might expect.
VIA @GardenContinuum

The reason I'm sharing all of this right now -- with fall just around the corner – is so you can take effective action now to ready your landscape for spring (and get the jump on next year's to-do list!). In the set of articles I've linked here, you'll find all of the tasks you can accomplish in the next 8 weeks – from mid-September through mid-November – to make your spring easier and more beautiful.
Learn more about Fine Gardening by downloading the eBook titled "The Fine Gardeners Guide to a Beautiful and Luxurious Landscape" today.