If you're a weekend warrior, you know a lot can happen in your garden when you're sitting at your desk during the 9 to 5. Blades of grass quickly grow tall enough to tickle your ankles. Weeds sprout in the middle of pathways. And, poison ivy seems to appear out of nowhere.
By the time Friday rolls around, your mind is racing with all the things you "need" to get accomplished over the weekend. It's great to have goals and all, but weekend warriors beware. In a race with nature, she'll always win. And, if you try to catch up with an unrealistic to-do list, you're bound to work yourself into a dither or worse really injure yourself.
Even though I have professional training and should know better, there are still many moments where my own ego has caused me some pretty serious pain.
I recall two summers ago showing off that I could pull poison ivy in my yard faster and cheaper than anyone I could hire, and I paid the price with two weeks of agonizing blisters.
It didn't even matter that I knew I was being reckless. I was possessed like some kind of superhuman green thumb hopped up on too much caffeine (maybe that's why the neighbors don't talk to me… It all makes sense now).
Something I still struggle with is how to find that happy medium between manic maintenance and peaceful pastime. Truth be told, if you want to have a beautiful landscape, you're going to have to put in some work, but there are a few time management tricks that will help you take back your weekends.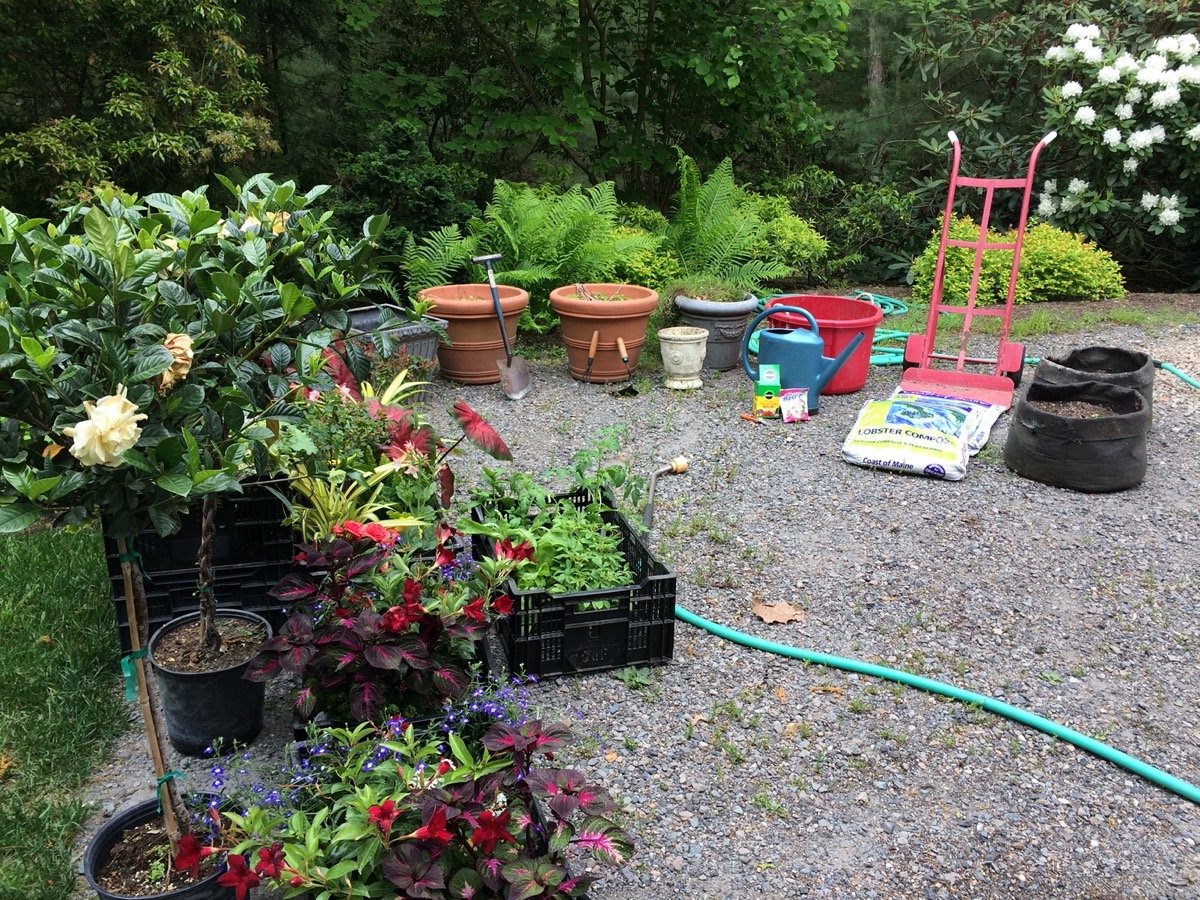 Preparation for planting summer annuals in containers
Neglecting Your Landscape Can Have Negative Consequences
Let's first talk about the importance of maintaining your outdoor space, because If you don't get ahead of it, you could be in for a variety of problems.
These issues can not only detract from the health and vitality of the landscape but can also be costly and time-consuming to fix. In contrast, a well-maintained landscape can provide many benefits, such as reducing soil erosion, providing habitat for wildlife, enhancing curb appeal and creating an inviting space for you and your loved ones.
On that last point, if you're not happy with your surroundings, then you're not going to want to spend any time outside. So ensure you don't neglect your landscaping to the point of not being able to enjoy it!
Designing a Weekend Warrior Garden
When designing any landscape, one of the first questions a professional landscape designer will ask the client is, "How much time do you have to devote to maintenance?"
This is an important question because natural succession will move your landscape through stages that neither feel organized or inviting pretty quickly. Even the most well thought out designs can go rogue in one season if you're unable to keep up with it. And, it can become a constant struggle to get your garden back on track.
A low maintenance garden design requires less time and effort and this can be particularly important if you have a busy schedule or have limited physical abilities. Monique tells clients that a low maintenance garden is earned through a 5-step process.
Sustainable design
Intelligent plant selection
Installation practices (including soil work)
Initial follow-up care
Ongoing stewardship
She warns that if you skip any of these steps, you risk losing to mother nature's grand plan of succession.
It would be lovely to believe that we know how to create a balanced, easy-to-manage landscape, but nature wants succession to happen. She wants the weeds because they help nurse the baby trees for that forest she hopes to cover the earth with someday (at least here in New England).
So, yes, we can design with ease in mind. And, when coupled with keen attention to plants, soil and installation practices followed by vigilant attention, it does, in fact, become easy. Remember, gardening is a way of life. It isn't "doing the dishes." It's cultivating the ecosystem to enhance beauty for you and your family while supporting nature and offering some yummy bounty!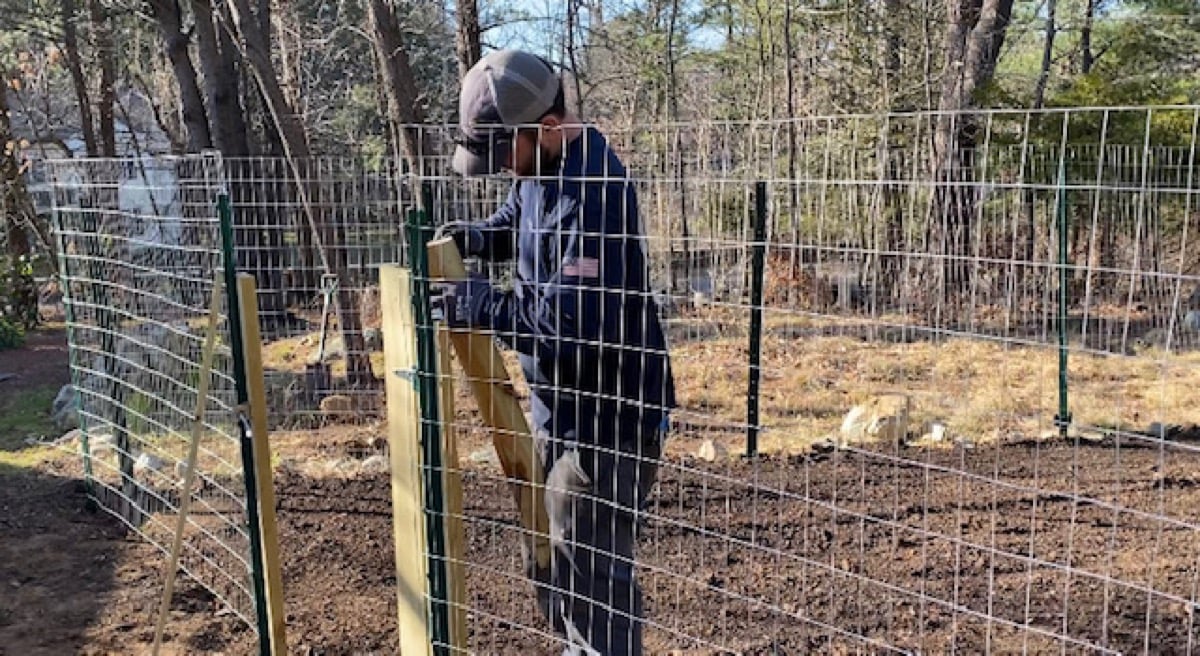 Gardening is sometimes building structures to protect your precious vegetables!
Give Yourself a Deadline and Know When to Stop Working So You Don't Injure Yourself
If you already have the design in place, the most important aspect of healthy gardening is the pacing.
Trust me, we get it, it's easy to get caught up in the moment. There have been many times we've found ourselves rushing around trying to finish a project before the last bit of sunlight dwindled or before the heavy rains started falling. Something about working outside with your hands is addictive and it's hard to stop, but if you take breaks and know when to call it quits, you'll thank yourself later.
To avoid strains, set a timer and make sure you switch up your activity or position at least every half hour. Don't forget to take water and snack breaks throughout the day, too. Resting, even for brief moments, takes strain of your muscles and can help avoid injury. Give yourself a daily deadline. It's important to know when to stop for the day and to recharge. There's always next weekend.
Set Priorities About What's Most Important
Always prioritize highly visible areas and save the paths less traveled for a day when you have time.
High visibility areas are the most noticeable parts of your garden. They are also often the most functional parts of your space such as entryways, patios or outdoor living areas and can have a significant impact on its overall aesthetics. By focusing on these areas, you can create a visually stunning garden that is sure to impress visitors and save yourself hours of time.
High visibility areas are also the most valuable parts of your garden. A well-designed and well-maintained garden just beyond your front door or surrounding your patio can increase the value of your property and make it more appealing to potential buyers.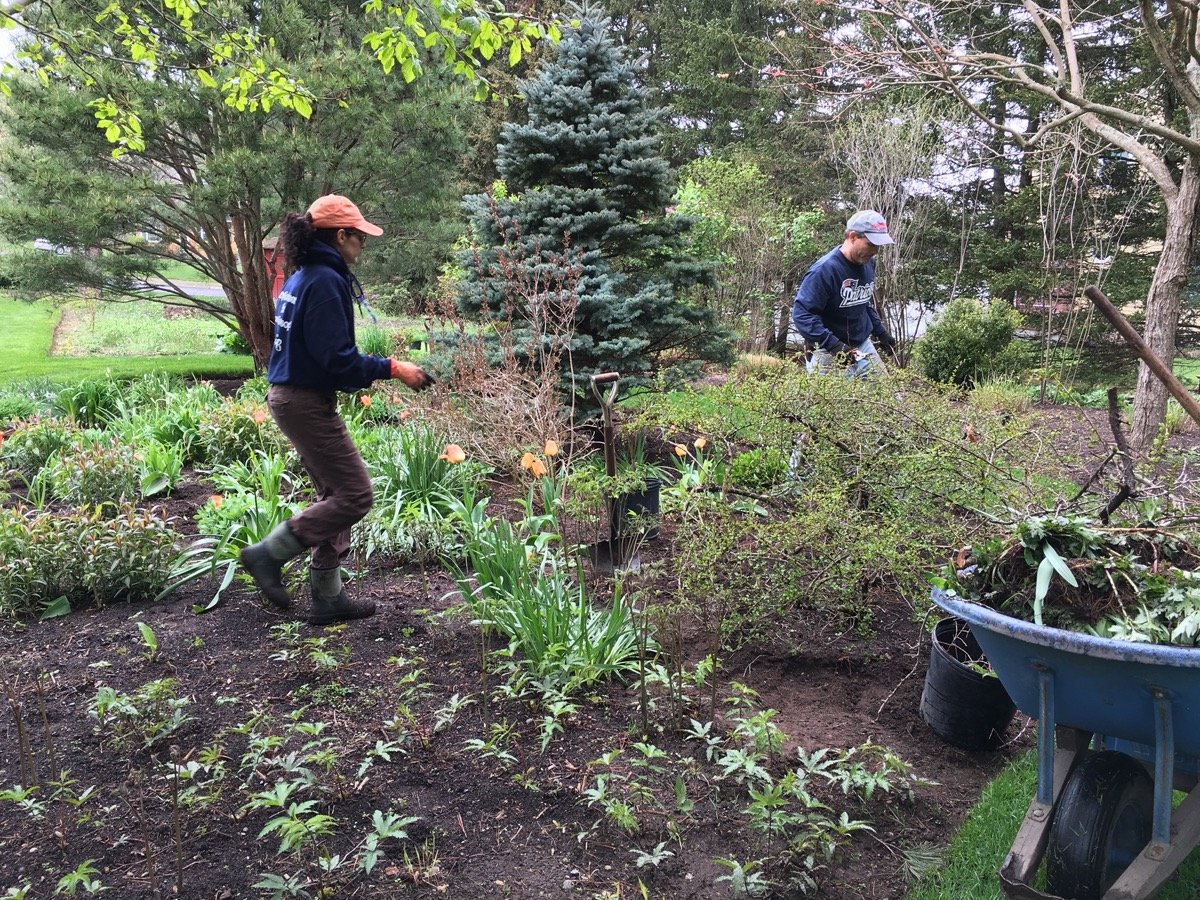 Teamwork in the garden makes all the difference in how much you can get accomplished!
The Benefits of Letting Your Yard "Re-Wild" Itself
Remember, that not every square inch of your property needs to be landscaped. Letting part of your yard re-wild itself can have several benefits, including the gift of time.
An important element of rewilding is also choosing where you clean up in the fall and where you leave the leaves. There is this ongoing debate about how much is too much clean up. Monique loves the idea of leaving leaves wherever you can on the edges and she also likes picking them up in the areas where she's put in her sweat equity to build something sensational and pleasing. She doesn't want the voles there, they can have the woods!
Plant Native!
If you like the idea of rewilding your yard, try planting some native plants. In their book, The Living Landscape, Doug Tallamy and Rick Darke talk about incorporating the Pareto Principle when designing your outdoor space. They believe that planting 80% native and 20% "well-behaved" non-native plants is the way to go.
Monique believes that your design shouldn't be an all or nothing approach. And, you shouldn't feel guilty about introducing non-native plants into your landscape. Keep in mind though that some plants do go rogue without the checks and balances of their native habitat so always do your research before incorporating them.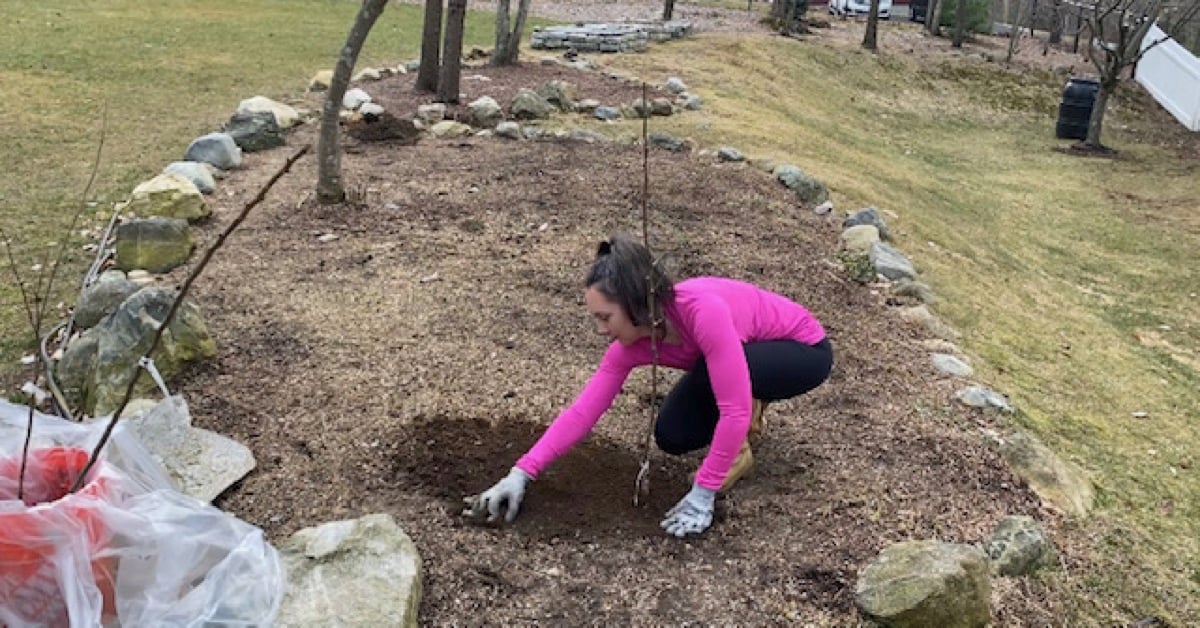 How Do You Know When It's Time to Call in the Pros?
If the work is too much for you to handle, if you need help regaining your partnership with the horticulture in your landscape, if the project could result in injury, it's a sign that it's time to ask for help.
Ever hear of a landscape rescue? For those of you who have let your landscape go for several years and feel a little embarrassed to call a pro, The Garden Continuum is here for you. And, there's no reason to be embarrassed, because you know what? It happens more than you probably think. Life can get busy, 3 or 4 years go by and oh, my how your landscape can change! TGC will work with you to transform even the most overgrown garden. We will assess what stays and what goes. What needs to be simplified and what can be restored. We'll be posting a blog about landscape rescues soon so be sure to stay tuned for more information. In the meantime, visit our website to learn more about our process and to take a look at some of the beautiful landscapes that we've transformed over the years.
In summary, we have to remember that gardening isn't a race but rather a journey. A pastime that shouldn't be driven by the outcome, but by the experience of your long-term relationship with your garden.
If you are interested in regenerative gardening, please download our eBook: How Regenerative Gardening will help Fight Climate Change.