Garden Ponds - Cherry Blossoms & Water
This Franklin, Mass pond is roughly 1800 gallons with a header pond and double spillway. The sounds of water and early spring peepers make this pond a dominating feature in the landscape.
The flowering Higan cherry (Prunus subhirtella 'Pendula') is bursting with blossoms that will hang on through May and rain down its delicate petals as the temperatures warm up.
Use of water in the landscape in this way adds a dimension to an ecosystem that draws in use from wildlife as well as people. Children get lost in hours of joyful exploration as they follow the life cycle of frogs, toads, and fish making a home pond a fantastic feature for families.
---
Garden Ponds - Fish in the Garden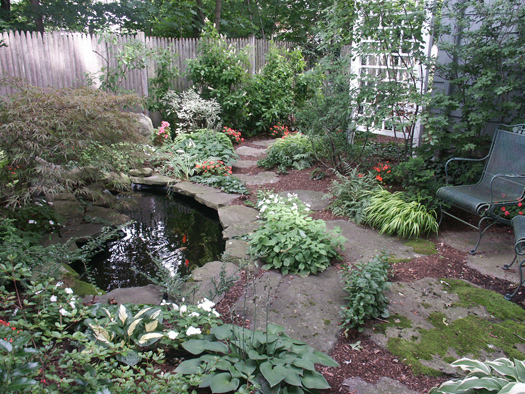 A back yard pond, stepping stones, moss, perennials and ground covers...now THAT'S a garden. Who needs to fight to get lawn to grow in the shade or through the heat of the summer when growing moss and raising fish could be so much more interesting. These two little fish have lived in this pond happily for five years. The gentle flow of water keeps the water surface moving and the sound makes this a wonderful place to have a glass of iced tea in the afternoon to beat the summer heat!
How do you beat the heat in the garden?
---
Garden Ponds - Little in Size; Big in Eco-Value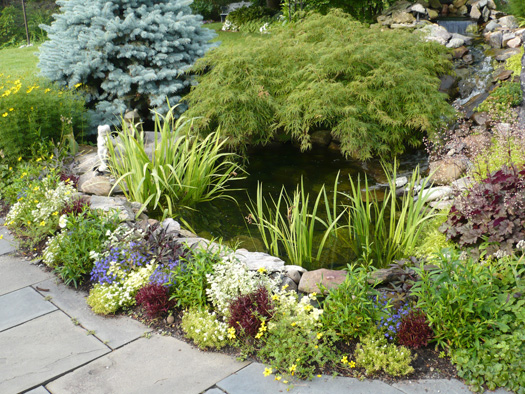 This tiny pond may seem small to your eye, but it is a treasure in this South Natick, Mass landscape. It sits neatly at the base of a large ledge outcropping off to the side of the main patio space and has a tiny trickle of water movement to keep the surface moving. The frogs and toads LOVE this water. They sing and croak their joy throughout the day and night. You know what else they do...? They eat OODLES of mosquitoes all day long. Their voracious appetites keep the mosquitoes at bay so this patio is bug free!
---
Garden Ponds - Cooling Sounds of a Garden Stream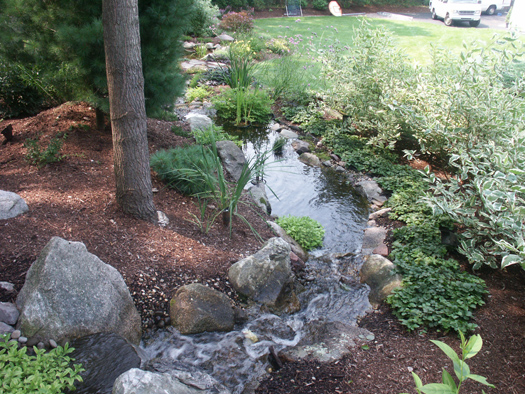 Sometimes just the sound of running water through the garden is all you need to feel cool in the summer heat. This stream bed runs with a wonderfully relaxing sound as it wends its way through perennials and ground covers on its way to a lower basin pool filled with aquatic plants. The air around this feature is cooler in the heat of summer just because the water is moving and all the plants are so happy and lush.
Do you have water in your landscape? What is the best part about your water feature?