Decks - The Home to Patio Connection
This narrow back yard in Dover, Mass needed a comfortable space for outdoor living. A long transitional deck with open angled steps invites movement onto the new brick paver patio below.
By using big open steps and a small portion of deck railing only at the sitting area of the deck, these spaces feel well connected rather than penned in. The views from inside the home are not obstructed by too much railing and flow from in to out smoothly.
Garden parties allow for easy flow from inside the house to the deck and onto the patio. All spaces are functional and comfortable.
---
Decks - Layered Solutions for a Backyard Pool Garden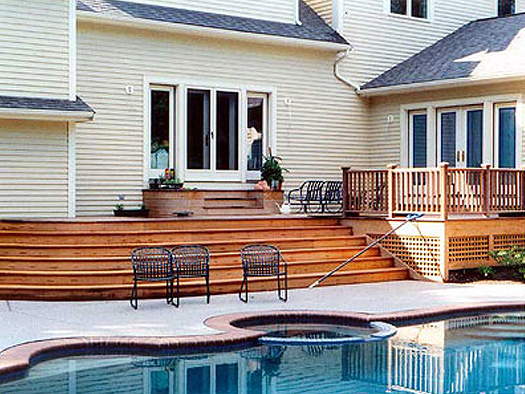 This home had many exits at many levels that led out to a large pool in a small yard. By designing this multi-leveled, mahogany deck with wide-open, curved steps, the deck not only solved the varied door levels it also now offers functional sitting space for pool-side R & R.
---
Decks - Maximize Outdoor Living & Garden Beauty with a Pergola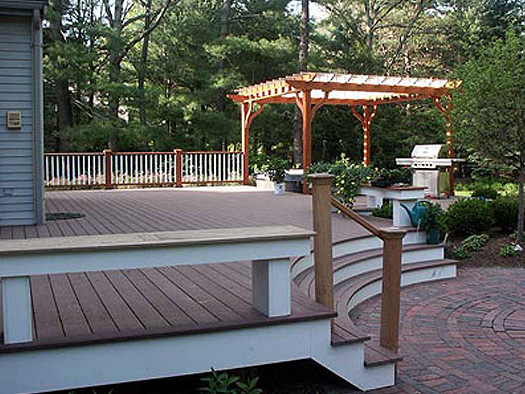 This extensive deck in Sudbury, Mass was designed to really live on. It has a wide open space for a large table and chairs and a grill. The curved steps meet up with a small circular patio for more intimate gatherings within the gardens. The deck extends to out in the back to encompass a hot tub covered by a lovely pergola.
---
Decks - Making the Home to Garden Connection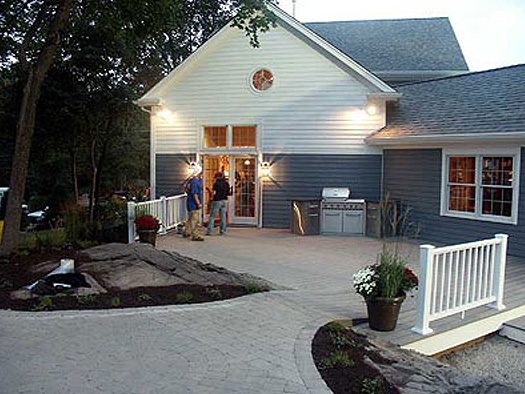 Extreme Home Makeover - 2005 - In Medfield, Mass lives a family with a son in a wheelchair. Their wish was for him to be able to get in and out of the house with ease. Their property was multi leveled and filled with huge ledge outcroppings.
This deck is wide open and the composite deck boards are scribed right up to and anchored into the ledge. The paver patio then meets the deck and ledge seamlessly. Each paver and deck board custom cut to make the access smooth.
Pocket gardens surround this deck and patio along with ornamental planters make this space colorful in all seasons. Read more about The Garden Continuum's design and landscape development donation to the Johnson Family in Medfield Mass.
---
Decks - The Wood Solution to a Sloped Landscape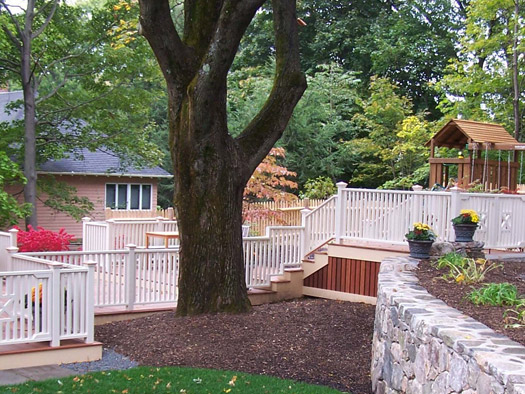 This home in Lexington, Mass had an enormous elevation change from the front to the back of the house. The back area alone had multiple old walls and levels that were going to be cost prohibitive to remove. Plus we had this Grandmother Maple in the yard that provided a perfect canopy so we didn't want to disturb or damage it.
Yes it is a Norway maple, but sometimes you have to stop and look at the composition and say - invasive or not - this plant stays...we are managing all her "children" out of the landscape so she will be the end of the generational line (we hope).

Our deck design saved the day by evening out the "ups & downs" in grade and offering functional outdoor living solutions, pocket gardens, and safety for young children by adding gates. The tree looms large next to an above it creating an oasis of cool shade in the hot summer. And, while a sizable construction project in its own right, it was FAR more economical than the demolition and rebuild of the structures beneath it!
---
Decks - Wishing for Water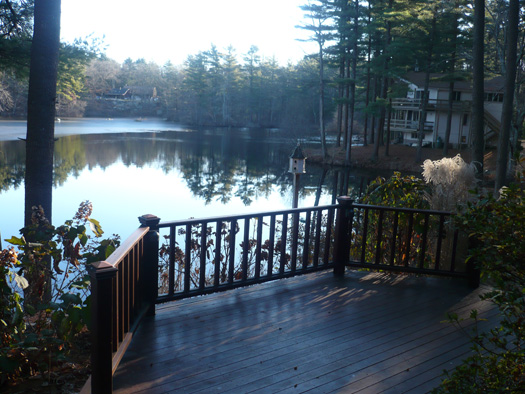 With a view like this, who wouldn't want to have a sitting space to over look the water and gardens. This tiny deck was designed to take advantage of the views while offering a solution to errosion by lifting out some old patio block and heavily planting the slope.
This deck is now nestled in a habitat garden that improved the functions and characteristics of this wetland edge while allowing human interaction without impacting the resource area.