Turning underutilized public space into a green-oasis "pocket park"
Urban blight is not just a problem for major cities. Smaller communities across the nation are also faced with abandoned and forgotten properties, some taken over by municipal governments. For many community planners the problem is in knowing how to convert an underutilized parcel of public land into a useful and engaging space, like a vibrant pocket park for public use and enjoyment.
The key to getting a parcel to go from forgotten to accepted and utilized is to create access and visibility – and visibility is as much about positioning the project as a valuable community asset as it is about what you will ultimately see in the underutilized space.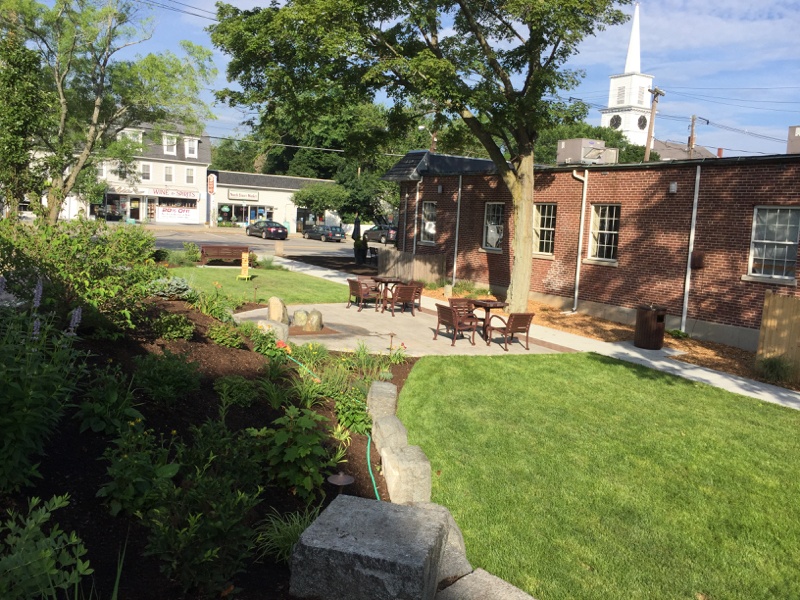 Straw Hat Park, Medfield, MA
The benefits of pocket parks
The benefits of pocket parks extend far beyond just a place to sit in the shade and turn children loose. Pocket parks provide several key benefits that improve the entire community:
Strengthen community image and sense of place Even the smallest parks provide a sense of place and are a source of neighborhood pride. Pocket parks are used for a variety of social activities. They're an intimate place for friends to get together, chat, sip coffee, play games and enjoy nature. Children who might not otherwise have easy access to nature have a place to play in the grass and enjoy a cool breeze in a pleasant green space.
Support the local economy Pocket parks are often nestled in downtown commercial areas and crowded residential neighborhoods, near neighborhood stores where park visitors can stop to shop as part of their park experience – buying a snack and a drink, for example, to enjoy while sitting in the quiet shade of the park.
Strengthen safety and security Pocket parks provide a location and opportunity for families and friends to gather after work or school. Young families and seniors can feel comfortable relaxing with other like-minded residents in a well-designed and lit public space.
Promote health and wellness Regular physical activity is one of the most important things that people of all ages can do to improve their health. Pocket parks are often a walking destination for neighborhood residents, a place to play with pets, and a calm environment for sitting, reading and meditating to relieve stress, enjoy fresh air, and improve general well-being.
Protect environmental resources Preservation of green space plays a vital role in protecting the environment. Green space improves air and water quality and provides habitat for wildlife such as nesting birds. Mature park trees help filter out groundwater pollutants and provide cooling shade.
Leftover parcels of land that have been neglected or forgotten are ideal spaces to turn into parks. They do not have to be major recreational facilities. Instead, many are perfect for turning into smaller green spaces that can add beauty and order to an otherwise uninspiring piece of land, inspiring residents to connect and rejuvenate themselves and their neighborhoods.
Straw Hat Park: A sustainable neighborhood pocket park in Medfield, MA
Straw Hat Park is a recently developed pocket park in the small town of Medfield just outside of Boston. As the park's designer, I was pleased to be able to contribute the resources of The Garden Continuum as part of the collaborative team that included town government agencies, citizen volunteers, and local businesses.
The park got its name from a local manufacturing facility close by (now the Montrose School) for straw goods. Nestled among retail businesses on a small 5,352 square foot parcel owned by the town, the park consists of a central decorative paver stone patio with two game tables and an innovative, interactive water fountain that's designed for people to touch, splash, and enjoy. There are two pockets of lawn on either side of the patio with comfortable benches on one side and reclaimed granite blocks donated by the Massachusetts Bay Transit Authority (MBTA) that can be used as seating and as climbing features for children. All this is nestled into a hillside garden that wraps each interactive element in vibrant horticulture.
One of the many unique features of the park is its sustainable design. It is intentionally designed to evolve over time, with plants specifically selected to grow in such a way that they will require less maintenance, fertilizer, and water as they mature. The park will look very different in just three years – and even more so in five -- as the plants fill out and act as a visual and physical buffer between the park and the surrounding streets and commercial properties, including an adjacent parking lot.
The true value of this little pocket park goes far beyond the beauty it brings to a highly developed area. As the result of several years of hard work and collaboration between town employees, local businesses donating goods and services, and citizen volunteers, Straw Hat Park is now a source of immense pride, joy and satisfaction for a wide range of people and organizations. Families and individuals, young and old, are excited to embrace the park as their own and use it in a variety of ways.
The result? An improved quality of life and a neighborhood treasure far greater than Straw Hat Park's tiny size.
Check out this video of the opening of the park.
Tweetable Tip: Pocket parks provide several key benefits that improve the entire community http://ctt.ec/ai1E7+