Some commercial property owners might believe that the only way to provide added safety for their tenants is to minimize landscaping and eliminate any feature that might pose a danger to building occupants and their customers or guests. But with a little careful consideration and a thoughtfully designed landscaping plan, commercial properties can offer both a beautiful landscape and tenant safety.
Three key factors are carefully chosen plant materials, good lighting, and diligent maintenance. The right plantings, illumination, and landscape design and care, provide transparency and visibility – the ability to see over, around, and even through plants to avoid unexpected encounters and surprises. To help accomplish that, consider plant heights and densities and keep them well pruned and trimmed as they mature to avoid dense over- and undergrowth.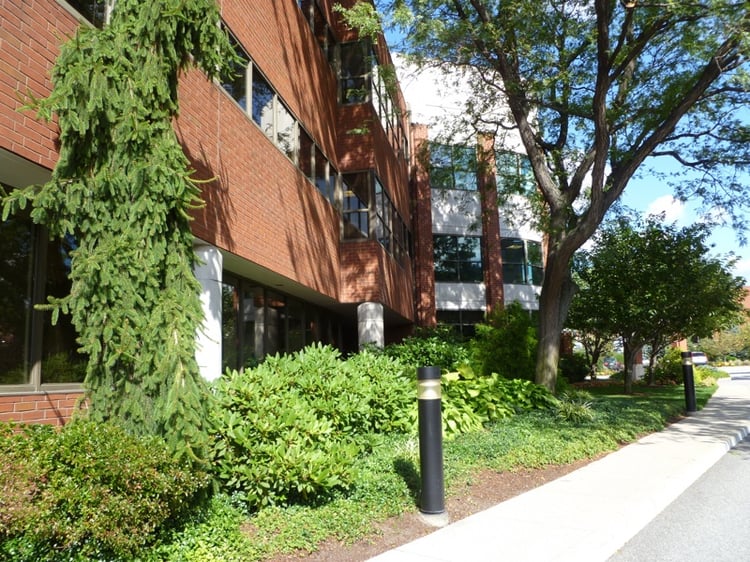 Having the right amount of illumination is an important safety element for tenants
Proper illumination means having the right amount of light in the right places. There's no need to flood an entire space with bright, unrelenting light. Instead, bring illumination down closer to the surface of walkways, parking lots, and driveways so pedestrians and drivers can see and be seen without being blinded. Carefully planned and controlled lighting also can save energy and money while minimizing light pollution. To learn more about lighting, please read the lighting article.
Here are 8 commercial landscaping tips to help ensure safety:
Make sure that tenant circulation routes are designed to enable them to take the shortest, safest routes possible. No matter how much you might like to encourage them to meander through a winding walkway, experience tell us that tenants prefer to get from Point A to Point B in the shortest amount of time and distance possible. That means if there are corners and curves adding length to their walk, they'll cut across and end up wearing a new path.
Understand how humans and vehicles interact on your property and "compartmentalize" them as much as possible. Any time you can separate a walkway from a roadway, try to do it. By installing a boulevard strip or median, you're keeping pedestrians as far away from moving vehicles as possible, increasing their safety. An added bonus is the additional space a median or strip provides for winter snow loads.
Where humans and vehicles intersect, such as at crosswalks and vehicle loading and offloading zones, make those areas as visible as possible for both pedestrian and drivers. Clear markings and effective lighting go a long way to promote pedestrian safety.
Proper illumination is crucial for helping to prevent accidents and crime. Efficient lighting around travel areas will help boost pedestrian visibility and reduce hiding places for criminals. The right lighting improves direct and peripheral vision, minimizing the need for head-swiveling to make people feel safer and more at ease.
Good drainage and stormwater management is a key component in commercial landscape design. Water should quickly drain away from pedestrian areas and entryways to keep tenants as dry as possible as they enter and exit the building. Driveways and other vehicle travel areas also require adequate drainage to help drivers avoid losing control of their vehicles in heavy rain and to prevent pedestrians from unexpected and unpleasant drenchings from passing cars and trucks. Where possible, consider incorporating porous paving options and vegetated storm water management design as ways to improve drainage and the protection of water as a resource.
In snow-prone regions such as New England, adequate space needs to be dedicated to snow storage during the winter months. This enables snowplow operators to easily and conveniently pile snow while ensuring that pedestrians and drivers can safely maneuver around sidewalks and parking lots.
Ice management is also important. Proper drainage goes a long way in preventing ice formation and build-up in the first place. By effectively managing water removal before ice forms, building management can avoid over-salting for safety, minimizing costs as well as environmental damage.
Prune thoughtfully and with an eye for public safety. While removing excess growth improves sight lines and visibility, over-pruning can create strong and sharp branches that can injure people walking too close or accidently falling into them (eye pokes are one of the top five landscape injuries). Elevate the importance of proper pruning to ensure you are caring for your plants using horticultural best practices. This is one task best left for highly trained professionals. Remember, plants are a long-term investment.
Tweetable Tip: The right plantings, illumination, and landscape design and care, provide transparency and visibility http://ctt.ec/dc820+
Property managers should keep in mind that choosing the right plant materials, having sufficient lighting and maintaining the building landscape are the most important factors that increase tenant safety. Learn more about the smart landscape design strategies that improve safety and improve overall building appeal by downloading the office and residential building eBook below.