Bulbs - Dramatic Yellow in the Garden
This dramatic yellow flower is Fritillaria 'Lutea'.
It is planted in the autumn at the same time as your tulips and daffodils. This flower blooms in early May and stands three feet tall on sturdy stems that need no support.
There is also a deep orange red called Fritillaria rubra 'Maxima' and a soft orange called Fritillaria 'Aurora'.
---
Bulbs - Making a Flower Garden with Bulbs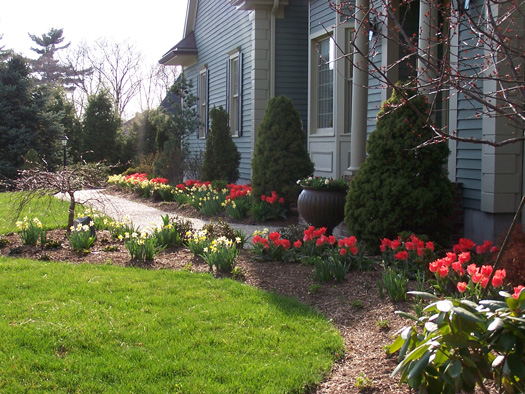 When spring comes around we are ready for color in the garden. Bulbs are the perfect way to bring bright, bold, and joyful color to your home landscape. This Medfield, Mass bulb planting in big waves and full bunches carries the tulip and daffodil color all across the house façade. There is nothing better than turning the bend and getting a splash of color in your line of site and realizing, "hey, that's my beautiful garden!"
It's NOT too late to plant bulbs in November. If the soil is still workable, you can plant bulbs right through December. Once I even planted them in January!
Here we have Toronto, a magnificent and hard working bunch flowering tulip. Partnered up with the tulip are bunches of small Minnow, a multi-flowering daffodil.
---
Bulbs - Mixed Daffodils in a Woodland Slope Garden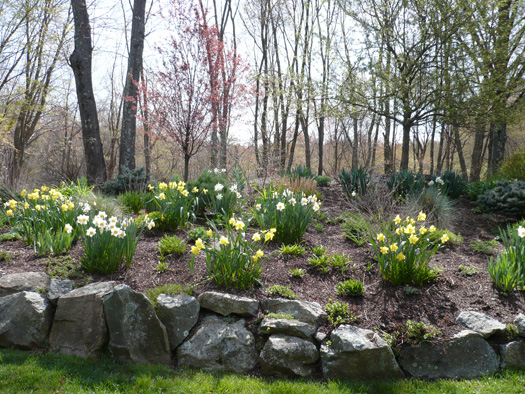 This perennial garden in Sherborn, Mass sits on the edge of an oak and pine woodland. In early spring it is still very cool and the perennials are sleeping. By adding a mix of large daffodils this garden comes alive a good four weeks before the perennials are ready to flower.
---
Bulbs - A Bulb Garden at the Sea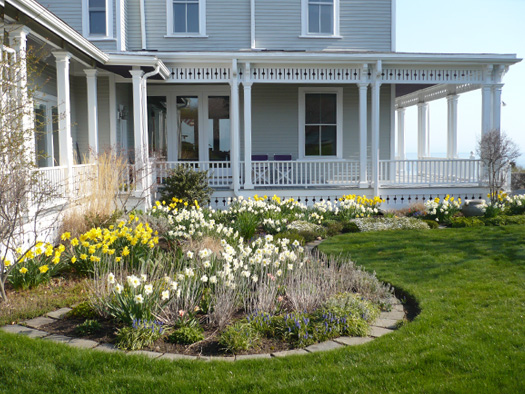 Only a short distance from the ocean, this wind-swept perennial garden stays dormant until the spring warmth coaxes them upwards. Wind or no wind the bulbs shoot out of the ground with vigor and drive far earlier than the perennials ever will. The play of white and yellow makes a cheerful greeting to the spring season and fills the space before the perennials are ready to make their appearance.
Daffodils are great plants you use when you have issues with deer and rabbits on your landscape. These bulbs along with Muscari, Hyacinths, and Fritillaria will bloom untouched by most critters! AND they are beautiful floral displays.
---
Bulbs - As Part of a Mixed Border Garden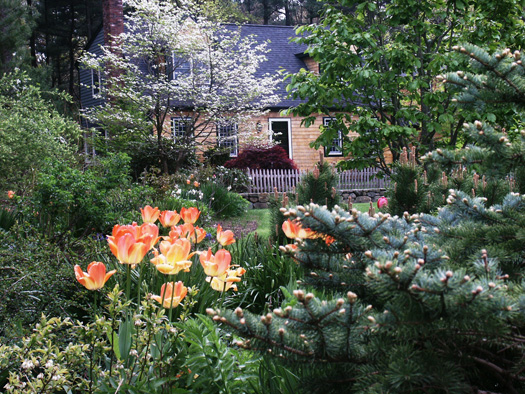 One way to make the gardening season longer – especially in the colder zones – is to be sure that bulbs are part of the mix. A mixed border generally has both herbaceous and woody material planted in it. By adding bulbs into this garden mix in Franklin, Mass we extending the bloom by as much as a four weeks!