For many businesses located in regions that experience seasonal extremes, such as New England, landscape design for commercial properties can present a particularly vexing challenge. What's the best way to design and maintain a landscape that can not only provide a vibrant, colorful environment during the summer months but also easily handle the snow loads and bleak conditions of winter that most commercial properties experience?
The most efficient strategy includes utilizing herbaceous plants (like groundcovers, perennials, and even annuals) that will die back in winter, enabling safe snow storage without fear of damaging sensitive branching that is trying to survive, while exposed to harsh conditions. Choose plants that enable landscape areas to undergo a vibrant transformation come springtime, emerging green and colorful when winter's snow piles have melted. Ideally, the plants will also provide transitional color in the fall as they ready themselves for winter.
Here are 15 tips and tricks to help you create a commercial property landscape that will provide maximum benefits all year round.
Tips to prepare your commercial landscape for the summer months
The biggest problem facing commercial landscapes in the summer is keeping the land looking fresh and lush when drought sets in. Often times commercial landscapes have amplified heat due to the use of so much asphalt. By choosing herbaceous plants, like ornamental grasses, that will handle hot, dry conditions around parking lot areas with minimal irrigation, commercial sites can mitigate the "heat island" effect and keep the property looking healthy and vibrant even when it is super hot. This solution also ensures that there is room for snow loads on the opposite side of the year.
Be prepared to focus on the areas with the most snow load, such as your stockpile areas. Rake all the landscape edges well to remove salt and sand and water them thoroughly to leach the salt through the soil and clean up the biological zone to encourage new plant growth.
Lawn edges typically bear the brunt of winter damage; so spread a compost and loam mix with seed and fertilizer on any area stressed by snow removal to help them recover more quickly.
Two primary things happen during the growing season: springtime brings the first burst of color, followed by summertime greening. To help promote early color and keep it as long as possible, consider planting spring-flowering bulbs such as daffodils, narcissi, and hyacinths in the fall of the year between Halloween and Thanksgiving. These will start the color ball rolling early in the spring, which can be followed by your early spring flowering trees and shrubs.
Cool-season annuals such as pansies with pussy willow and forsythia branches can be nice additions in planters to color up the early season. They make ideal color burst to key areas such as entryways and along sidewalks.
While you're planting your cool season annuals, be efficient and plant summer bulbs such as dahlias and cannas, which will add color to your beds in late summer.
Summer's heat brings the end to the colorful show of spring blooming shrubs, trees, and perennials and the lush greenery will begin to take over. To keep the color going in the heat of mid-summer, consider planting heat-tolerant annuals such as petunias, scaveola, and lantana, just to name a few. These colorful annuals will need consistent watering to get established, but once they have roots, they will bush up and put on a show of non-stop color through the summer and early fall, provided to keep them fertilized and periodically watered.
When October rolls around, it's time to plant fall annuals such as the classic fall flower, the hardy chrysanthemum. Don't be afraid to add some creativity with interesting ornamentals such as ornamental peppers with their vibrant peppers of red, yellow and even purple. Use some ornamental kale, which will look great well into the early days of winter.
As winter approaches, think about some seasonal greens and berries in your planters. You can go for a wintery mix of greens, berries, branches and pinecones for a colorful woodland look. If a festive holiday look is your preference, accent with fun orbs, decorations and lights to keep your landscape joyful right through the holiday season.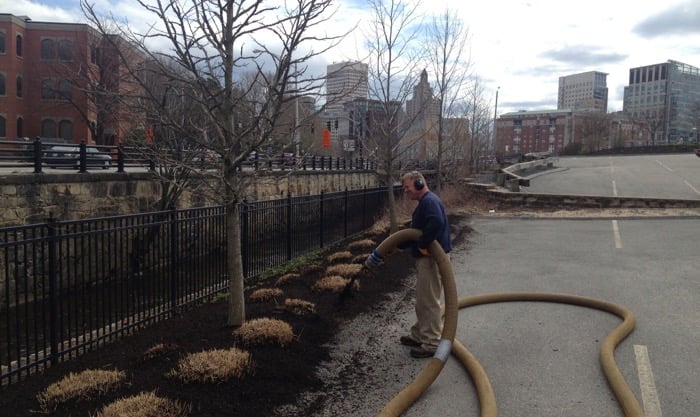 Mulching a bed of ornamental grasses in early spring after the area was used as snow storage all winter.
Tips to prepare your commercial landscape for the winter months
The biggest problem facing commercial landscapes is what to do with all the snow that must be plowed off parking lots and shoveled off sidewalks. Big piles of snow, break branches and crush shrubs while salt and sand damage or even kill sensitive plants and lawn areas leaving a dirty and ugly mess.
Design several easy-to-access snow load areas that enable plow operators to stockpile easily snow in a place free of delicate plants.
Depending on the size and shape of your commercial property, plan several snow stockpile locations – approximately one per every 100-foot run of driveway or parking lot.
Snow stockpile areas should accommodate the heaviest snow loads, so try to utilize landscape space that contains mulch, hardy grass, or, at least, rugged, resilient plants that can take the heavy cover for the winter months.
Make sure snow stockpile areas do not hinder the movement of the plows and snow removal equipment. Snow plow operators need easy, unfettered access to the area they are paid to clear.
Ensure that all landscape edges along driveways and roadsides are designed so plow operators can clearly see their range of operation and all areas allow for easy clean-up, such as curbs and sidewalks that effectively accommodate snow plowing, blowing, or shoveling. Keep in mind; moving snow is a hard job – often being done during the storm and even at night. Exaggerate the site lines, which will all be completely blurred once there is snow.
Most commercial property managers use a lot of salt or ice melt to minimize slip-and-fall liability. If you can avoid over-salting to protect your landscaping without sacrificing safety it is better for the environment and your plants. Consider rethinking some drainage strategies to keep puddles and pooling down. This approach will minimize ice build up and the need for damaging salt use.
Clean up all sand and salt as soon as possible from parking areas to avoid burning plants and creating adverse soil conditions in the biological environment. Do not brush it up onto the planted areas and leave it there. Excessive sand and salt will damage soil and plants.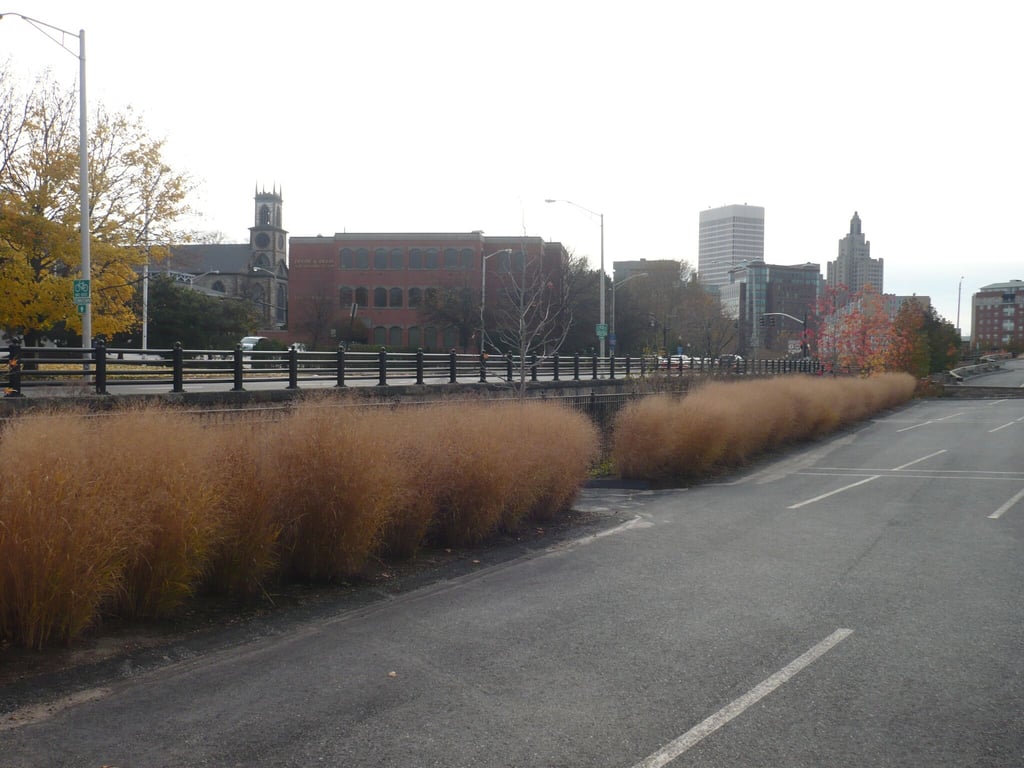 Shenanadoah Switch Grass in its fall expression one month before being cut down to make room for snow storage
Tweetable Tip: Select plants with summer heat and winter snow in mind for a vibrant and functional commercial landscape http://ctt.ec/C7ekY+